There are some Tennessee whiskey brands you may well be familiar with—Jack Daniel's and George Dickel sitting top of mind. But there's a wide world of Tennessee whiskey to enjoy now, and even those aforementioned legacy labels are experimenting with releases that are redefining just what it means to be a whiskey from the state. Snag one (or more!) of these bottles to explore just what the Volunteer State has to offer.
Take a Sip of Tennessee With These Whiskeys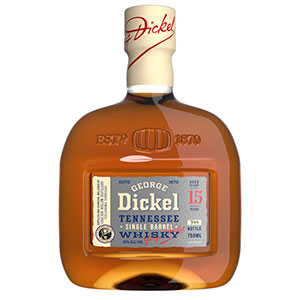 George Dickel 15 year old Single Barrel (No. L2029-5k-1010)
95 points, 52.3%, $60
Corn and maple candy. With water, orange peel and Luxardo cherry create an instant Old Fashioned.
Jack Daniel's 10 year old
93 points, 48.5%, $70
Sweet cherry notes and wood spice swirl around the nose and palate, integrating with baking spice, brown sugar, and candied orange. No. 4 in our 2021 Top 20.
Benjamin Prichard's
92 points, 40%, $45
The nose reflects bright aromas including caramel, cinnamon, and oak, with sweet caramel corn, soft cinnamon, and black pepper on the palate.
Corsair Dark Rye American Rye Malt
90 points, 42.5%, $42
Silky-smooth with a light sweetness of crème brûlée, yellow birthday cake, burnt walnuts, and a touch of earthiness.
Peg Leg Porker 8 year old Bourbon
90 points, 46.35%, $85
A candied nose of saltwater taffy and bubble gum, followed by peanut butter, vanilla cake, and spicy oak. Blueberry pie, coconut, and chocolate on the palate.
Sweetens Cove Blended Bourbon (2021 Release)
90 points, 56.85%, $200
Milk chocolate, toffee, and hints of banana bread on the nose, complemented by brown sugar, maple syrup, and bitter espresso on the palate.
Heaven's Door Double Barrel Blended Whiskey
90 points, 50%, $50
Dry, toasty charred oak, before cherry cough drop, cedar, clove, eucalyptus, toasted nuts, spice, and tobacco leaf.
Blue Note Crossroads Straight Bourbon
89 points, 50%, $45
Dried herbs, grape candies, marshamallow, and toasted caramel lead to vanilla wafer, cooked dark fruits, and spiced dark chocolate.
Chattanooga 111 Proof Bourbon
89 points, 55%, $45
Loads of spice, black tea, and a subtle earthiness, with a finish of chile-pepper heat, bitter chocolate, burnt walnut, and cooked cherries.
Roaming Man Tennessee Straight Rye (Batch 3)
88 points, 60.5%, $50/375 ml
With water, aromas of butterscotch, orange, brown sugar, and toffee are followed by a palate of cinnamon, cloves, orange, iced tea, cedar oil, and oak.
Nelson's Green Brier Sour Mash
88 points, 45.5%, $30
New leather, mint, dusty warehouse floor, gingerbread, caramel, and dark fruit on the nose with flavors of cinnamon, brown sugar, chocolate, raspberry, vanilla wafers, allspice, and black pepper.
Uncle Nearest 1884 Small Batch
88 points, 46.5%, $50
Aromas of blossom honey, cherries, banana cream pie, and licorice lead to a creamy palate of vanilla frosting, orange, peanuts, marshmallow, and light pepper.